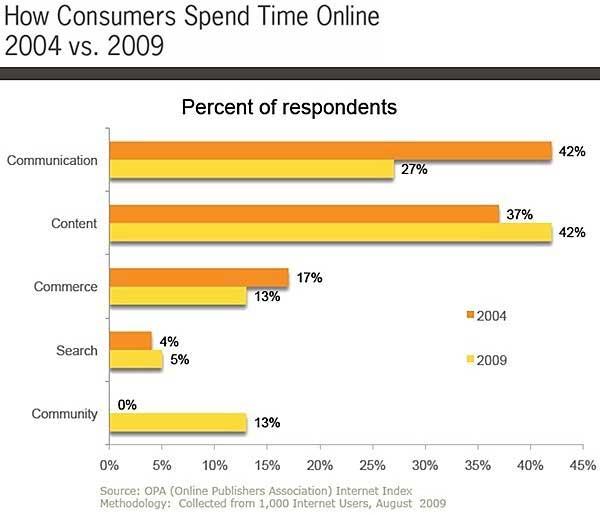 I would argue that content comes before conversation, without content there will be no conversation with your target audience.
The importance of content has always been paramount, remember people talking about content is king, a little cliche now right? Well it still is king, but it needs to be used to create a conversation with your audience, not as a one way dialogue. Leading brands have always seen the benefit of creating content [P&G], but more and more
brands are becoming media companies
and using media to become thought leaders and influencers.
The diagram to the left from MarketingProfs shows the importance of content to online consumers and how the time spent with content, communication, commerce, search and community has changed between 2004 and 2009.
Content however is constantly being
devalued
so it needs to stand out from the crowd, some writers [including the authors of Made to Stick] measure the likely success of ideas using this acronym SUCCESS: simple, unexpected, concrete, credentialed, emotional and story [s]. I believe this is also relevant for content, if you get this formula right people are likely to value your content and engage with you in a conversation around this content and over time see your brand as a thought leader.
Equally your content needs to either answer a question, resolve a problem, help them make a decision, provide them with new insight or simply entertain them.
It has become easier to measure the impact of your content, compared with the situation without content, simply by taking a baseline measure and tracking over time the impact relevant valuable content has had on your KPI's. Especially now with social media tools, it is possible to track content and conversations around that content and repeat traffic generated by content. More on measurement and conversion shortly.
Content is the 2nd of the
6 c's of measurable marketing
: customer, content, conversation, creation, convenience and conversion.